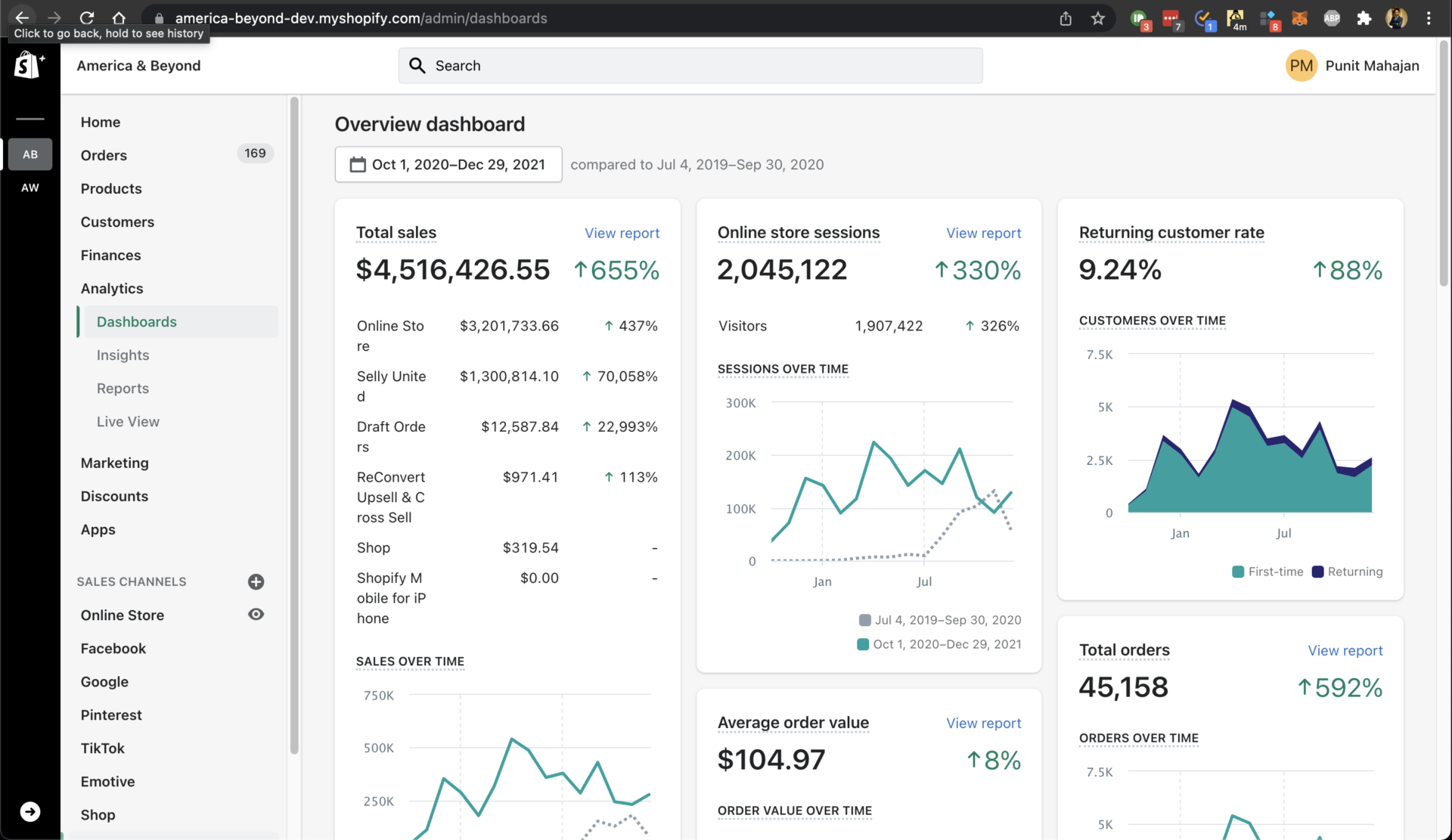 Client Background
Client offers handcrafted bohemian fashion products like totes, jumpsuits, dresses and more made for the creative, free-spirited woman.
Client Goal
Since the client was new to shopify, our goal was to setup ad campaigns that bring in revenue.
Major sales channels identified were facebook ads, google ads, email marketing and social media.
I personally managed Facebook ads and google ads for this client. 
Results we achieved
We managed to do $4.5 million+ in revenue on this 2 year old ecommerce apparel brand.
Ad Spend I managed personally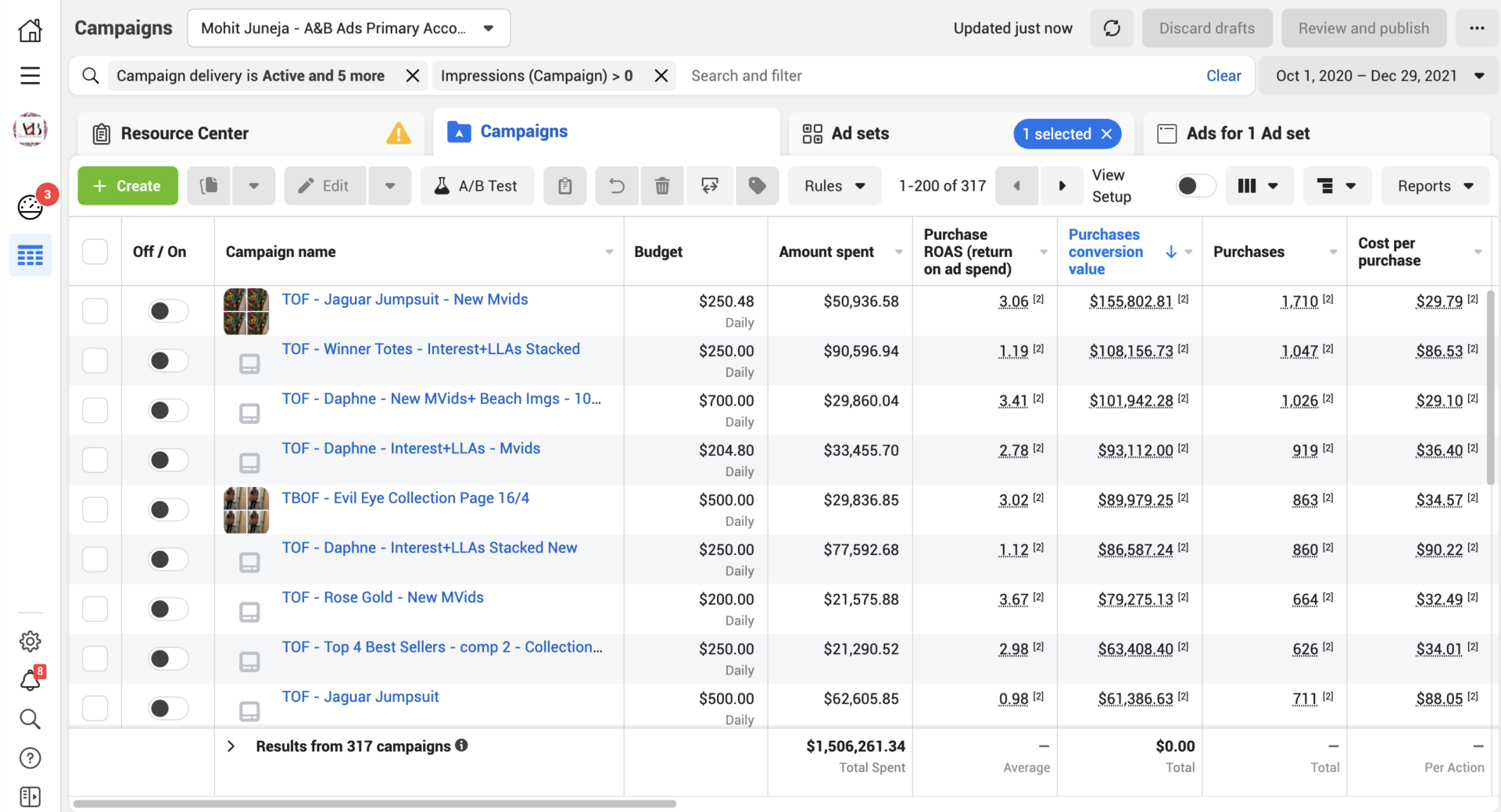 How did we achieve it?
Facebook Ads Budget Strategies
Budget allocation is one of the major factors when it comes to success for ecommerce brand.
Since we were new to the market, our majority of budget was focused around cold audience i.e people who don't know us.
80% for TOFU (Top of Funnel), targeting people who'd never heard of the brand. The goal was to reach as many people as possible and raise awareness for the relatively unknown brand.
10-15% for MOFU (Middle of Funnel), targeting those who'd heard of the brand but still weren't ready to buy. People needed extra information before visiting the site. This included website visitors, social media interactions and video watchers.
5-10% for BOFU (Bottom of Funnel), targeting those ready to buy but need an extra push. These were very product-focused ads. This included people who added to cart, cart abandoners and people who initiated checkouts.
Audience Testing Strategies
We started with Interested based audience targeting relevant interests on the ad account.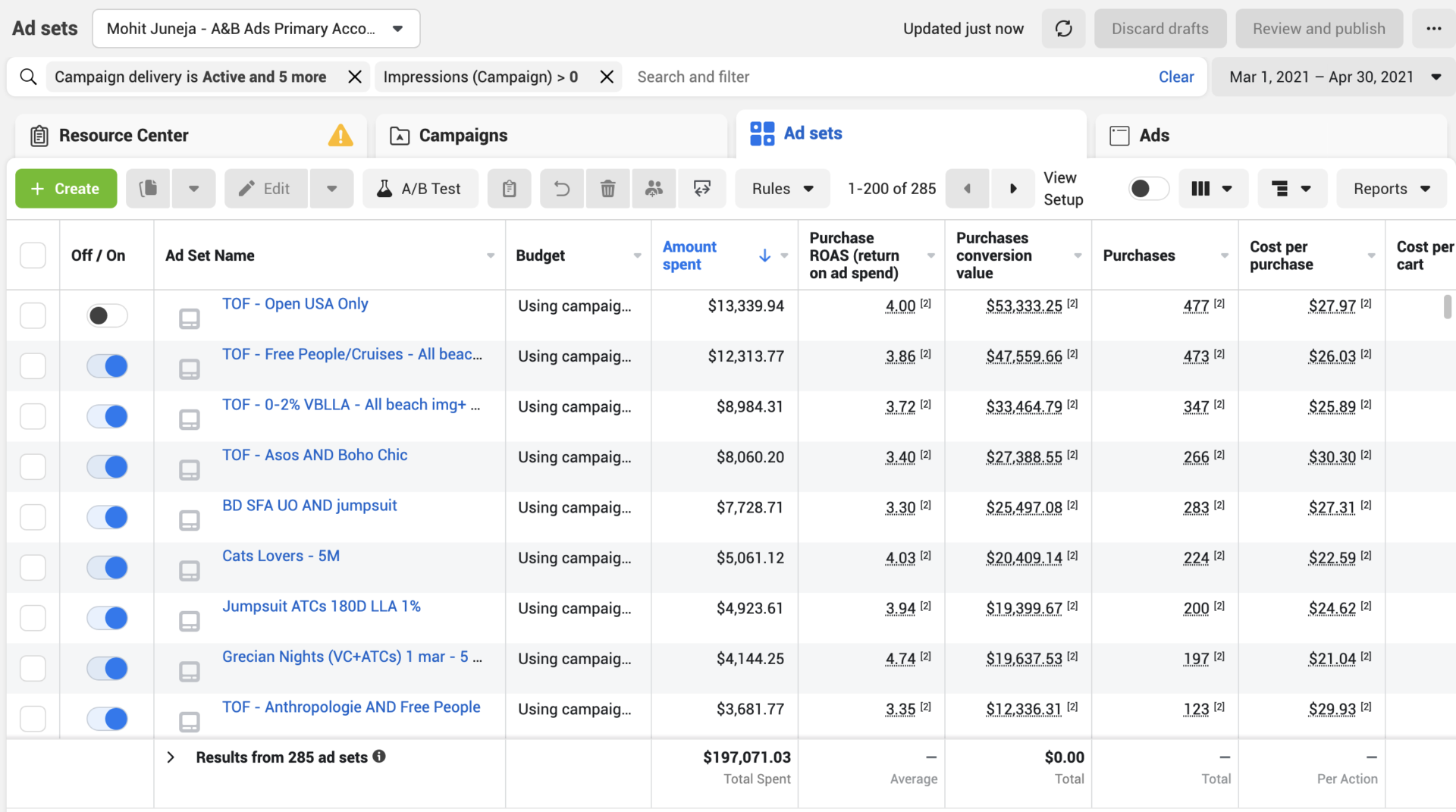 Few Adset structures that really worked for us:
a. Single Interest Adset
b. Multiple Interest Adset
c. ANDing of Tested Interests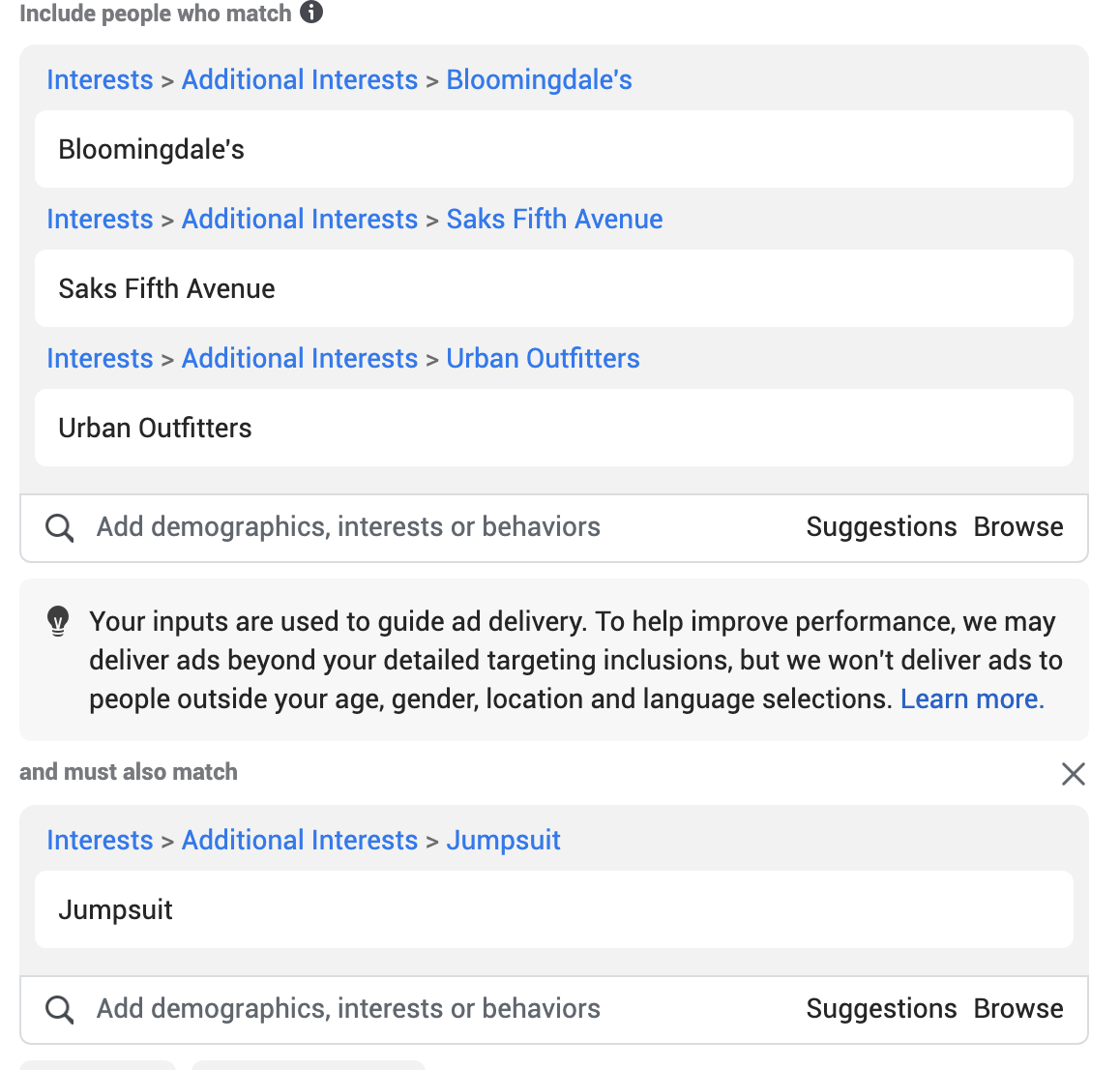 d. Open/Broad (adset without audiences) – mainly in holidays where competition is highest
Our major interests/competitors included – Free People, ASOS.com and the Boho Audience
Creative Testing Strategies
As of creatives, we constantly refreshed creatives on the ad account. We tested with lifestyle shots, carousel and videos.
"Mirror Videos" is what worked for us throughout the year where the model described features of the product by showing the product in her mirror.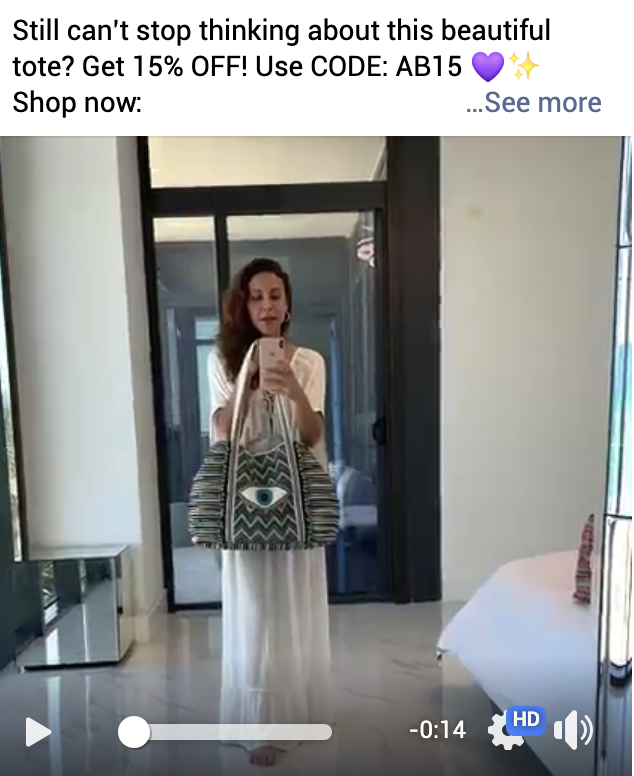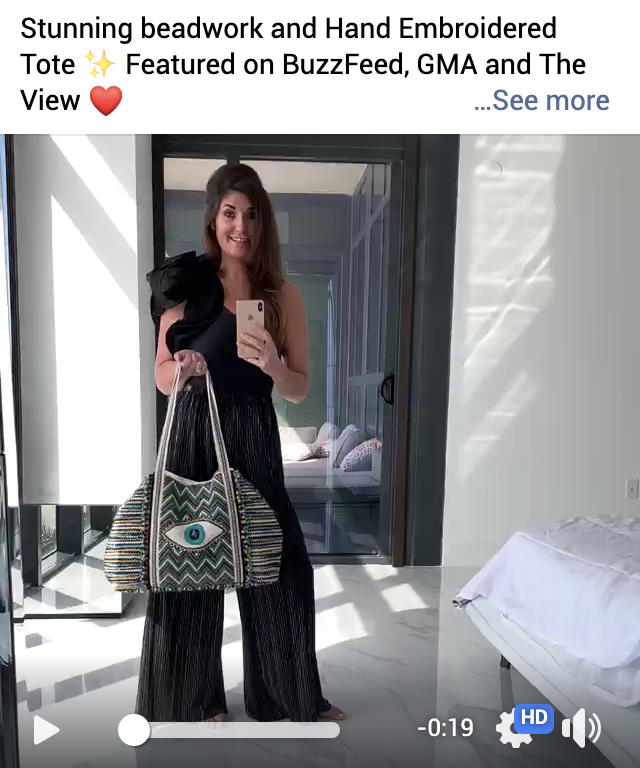 Since this formula was working for us, we tested with multiple setups and multiple models to test which one works the best.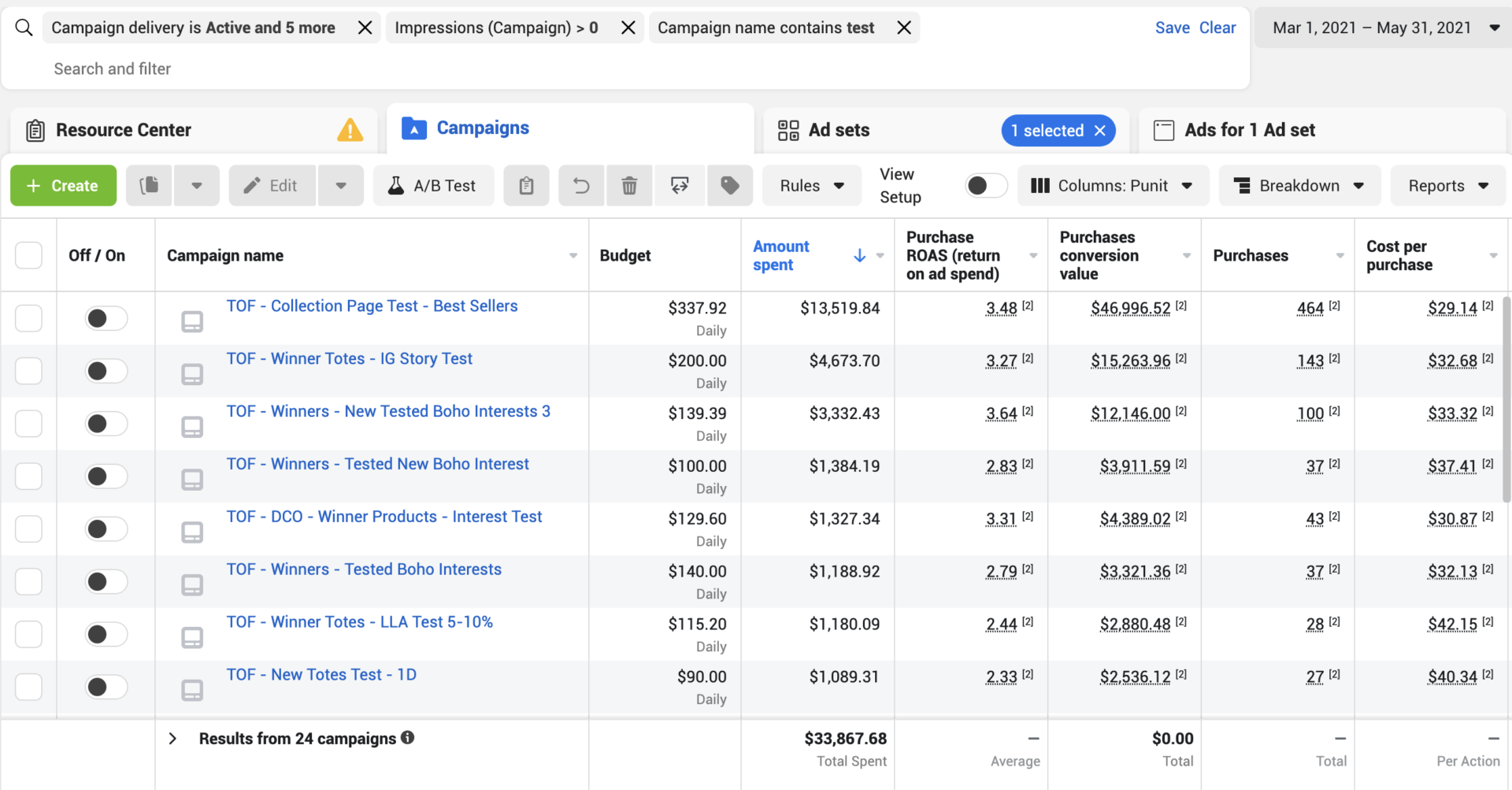 How to Scale Your Facebook Ad Campaigns
Depending on what type of campaigns are giving us good ROAS, we scaled campaigns both:
1. Vertically (Increasing budgets by 20% twice a week)
2. Horizontally (duplicating the campaign with increased budget)

We always monitored the campaign performance every day to see if specific scaling method worked.
Another important insight was increasing audience sizes as we scaled campaigns. Facebook wants to reach to more broader audience when we increase budgets in the same set of interests.
Test, Test… and Constant Testing
Majority of our wins and even some losses came from constant set of experimental campaigns.
We always had experiments running around audience, creatives, campaign structures and products.
Other Insightful Ad learnings
Sending people to holiday collection page instead of product page so they can choose which products they like instead of bombarding them your winner products
Using Open/Broad audience campaigns in holiday season (Nov-Dec) to reach out to cold audiences. Make sure you place your winning ads here with social proofs
Using Dynamic Ad Creative Campaign to test multiple creatives quickly. Using DCO to test small variables like change in ad copies, change in colors or change in primary headlines
Using Shopify UTMs Data + Google Analytics Data to measure campaign results after IOS14 hit. You should ideally build your own data model to check campaign progress. We preferred using Shopify backend UTM tagged data to measure campaign results.
Full Disclosure: Mapplinks Agency and Myself collaborated on this project.